In the spirit of enjoying a lovely holiday by keeping the conversation topics away from politics, and focusing on humor and technological advancement (or, more specifically, technological advancement humor), I thought I would share some of my favorite recent inventions, and include commentary from random people in the Twittersphere.
Sheet Muffins
The innovation team at Slate discovered a sweetened bread that replaces the need for individually held muffins…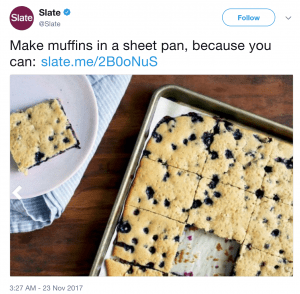 Cake.

You've invented cake. https://t.co/Jj51MCo41c

— Katie Charlwood (@BoyGeeksGirl) November 23, 2017
Innovations in Co-Living
Millennials invented a way to have other people leave dirty dishes in the sink and drink all but the last 1/10th of an ounce of milk in the fridge…
IT'S CALLED *ROOMMATES*

YOU INVENTED ***ROOMMATES*** pic.twitter.com/zKo1VrFwqR

— Yulie [NSFL] 🐳 (@sugarsh0t) November 13, 2017
Underground Group Transport
Elon Musk, the Thomas Edison of our age, found a way to have subterranean vessels pick up and drop off people at regular intervals…
That's a subway train.

You've invented the subway, Elon. Congratulations. pic.twitter.com/63kLZzNYNG

— Bruce Englehardt (@SounderBruce) November 22, 2017
Street Group Transport
Not to be outdone by Elon, Uber came up with a similar concept where the transportation uses roadways to pick up and drop off people at predefined locations…
Wow Uber is so innovative it just invented … the city bus https://t.co/CZNctytHx3 pic.twitter.com/CRffDDpkIC

— Michael Hobbes (@RottenInDenmark) May 23, 2017
Dedicated Short Term Visit Buildings
Airbnb continues to innovate by solving the problem of not having large, multi-unit buildings that are dedicated to short-term visits…
But…. but…. have Airbnb just invented "the hotel"? https://t.co/vaBaKF80NN pic.twitter.com/5Ftv8K7Qdj

— Jim Waterson (@jimwaterson) October 12, 2017
Automated Product Dispenser
And finally, solving both the problem of human interaction and the inability to purchase goods, a startup developed a way to pay for and receive products from a mechanical device…
Congratulations, you've just invented the vending machine.https://t.co/nwNfDNhlZG

— nina (@vyedin) September 13, 2017
An Amazing Time to be Alive…
Technology has truly taken us to places that could only have been imagined 30 years ago. Embrace these advancements and marvel at how they change the world before our eyes.
Are you aware of other incredible innovations that are changing our lives? Please leave a comment!