Most people that build products or run companies have heard the mantra, "get out of the building – talk to customers." It is easy to assume that talking to customers is only about building a better product. Talking to customers will help you build a better product, but more importantly, you may be rewarded by learning how your work changes people's lives!
I recently had an experience that was so delightful I had to share it with my former employees, and they decided to share it with their millions of customers. Below is the excerpt from the IMVU blog:
You may remember a very familiar face in the photo featured in this story. Brett Durrett is and always will be a friend of IMVU, even after his 11 years on staff and nearly 5 years as our CEO. Beyond his professional titles, or even his leadership as CEO, Brett was an active user that frequently went into chatrooms to join the conversation, answer questions, solve issues, or simply say hello. On Fridays at the HQ office, it was common to see Brett speaking from a microphone about the week's accomplishments, and always finishing with words of inspiration, a story of encouragement, or a new product to be excited about. Even if we didn't hear your stories, Brett always told us your stories so that we could remember why we work at IMVU: we are here to spread the power of friendship, to help people find friends, to encourage them to express themselves, and to find an outlet for creative expression.Recently, our current Chief Operating Officer Kevin Henshaw, forwarded an email he received from Brett to the entire company about how IMVU continues to work its magic on and off our product.

Brett's email read like this:

On Monday I was wandering around New Orleans wearing my IMVU hoodie, as I am one to do. I went into a coffee shop and the woman at the counter asked me how I got my hoodie, to which I replied, "I used to work for IMVU". Her eyes lit up as she proceeded to tell me how much IMVU meant to her as she was growing up.

Bea told me she used IMVU because it allowed her to connect with people without any stereotypes about who she was – she got to decide how she wanted to be seen. She also loved that it didn't cost much to experience a fantasy lifestyle. She had a lot of friends on IMVU that felt the same. She really gushed about how important IMVU had been in her life. Her excitement went on for minutes. My traveling companion was taken aback, as I seemed to have rock star status. It was a chilly day in NOLA, but I gave Bea my IMVU hoodie (she had made me feel so warm inside that I really didn't need it).

If you've talked to enough IMVU customers you know that Bea's story isn't unique… IMVU has helped people find their life partners, best friends, and caring families.

I thought I would use my chance encounter as an excuse to reach out to IMVU employees, say "hello", and remind them that there are a lot of silly things than can happen on IMVU, but don't lose sight of the really meaningful things as well! Bea's story is a testament to what this is really about – helping people find new friends and creating something meaningful to benefit their lives. On behalf of Bea, myself, and millions of customers, keep up the great work!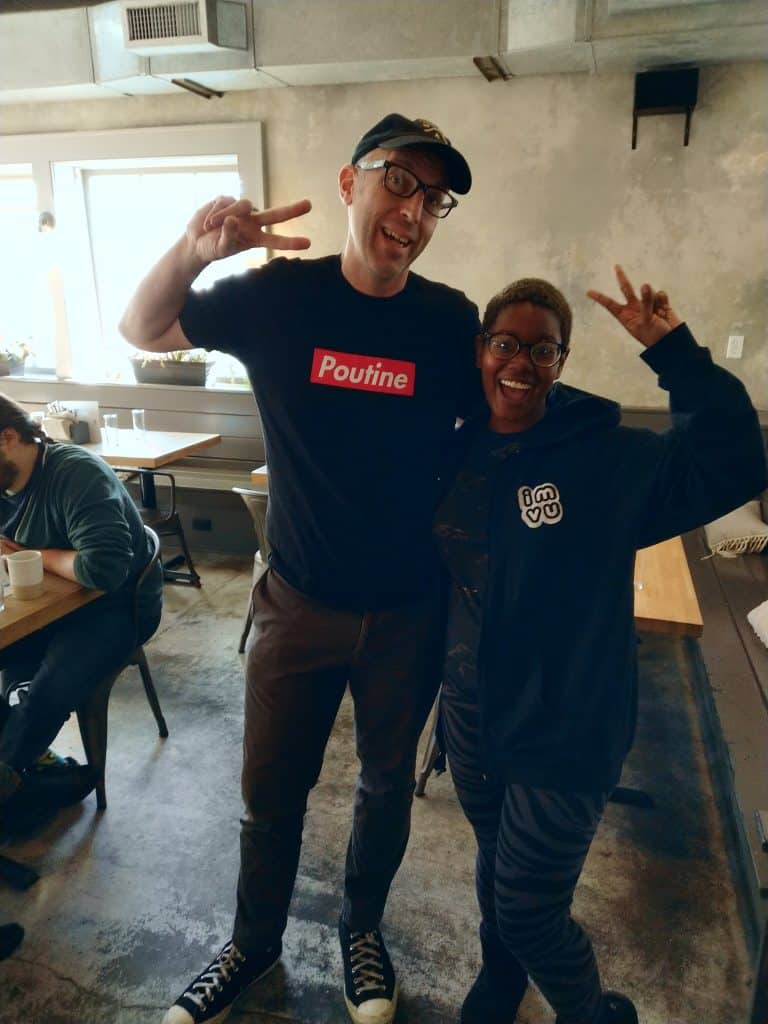 Do you have a delightful customer story? I'd love to hear about it… please leave a reply!