My short-lived backpacking career is in jeopardy… I'm a Venture Partner at Social Starts.
Why a Venture Partner Role
Most recently I spent several years growing a company from startup to millions of customers. In each role of the company, from technical executive to CEO, I needed to spend time deeply understanding the technology and markets related to the business (social, expressive communication, VR, avatars, communities, virtual goods, scalability, digital currency, and virtual economies). While being able to get a deep understanding of subject matters was great, it left little time to explore the breadth of ideas powering innovation, and I missed that.
So, one of the ways I've spent my down time over the last few months is getting exposure to a wide range of companies doing things I've never done before. In addition to some advisory work for startups, I went to a few sources of amazing entrepreneurs with great ideas. Steve Blank generously invited me to sit in on his Lean Launchpad class at UC Berkeley's Haas School of Business, where entrepreneurs formed and iterated businesses around IoT, energy management, and medical devices. I also spent some time at Obvious Ventures getting exposure to some really impressive companies in areas ranging from consumer packaged goods to gene therapy and wellness.
I found I really enjoyed the exposure to new companies, especially those outside of my fields of expertise… seeing how people are applying new technology towards opportunities drove my natural curiosity to research topics that were new to me.
I also found satisfaction in my advisory work, helping startups by sharing what I've learned, both from my successes, and my failures. Surprisingly, many companies deal with the same patterns of challenges – it's great to help people get past those so they can move on to newer, more exciting challenges unique to their situation (I wish I could write "eliminating challenges", but businesses just move from challenge to challenge… you're fortunate when you're working on the challenges with possible outcomes ranging from "good" to "great").
When the opportunity came up to research and help fund all sorts of great startups while providing me with the flexibility to work more deeply with a few companies, I knew this role was right for me.
Why Social Starts
There are many reasons I joined Social Starts, and two factors that most greatly influenced my decision are the team and the deal flow.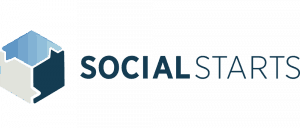 In regards to deal flow, Social Starts focuses on very early stage funding, from moment of inception to Series A. The closer you are to the top of the funding funnel, the larger the pool of companies to consider. And, Social Starts considers a lot of companies… it's been named the top fund under $100M since 2013, the 5th most active early stage fund worldwide of any size in 2015, and the 6th most active early stage fund in US tech in 2016.
For any organization I would join, it's a requirement that I respect and appreciate the team. In my discussions with partners, I experienced many characteristics I value, including candor, humility, thoughtfulness, and pragmatism. As a bonus, the COO is a friend that is on my short list of "people I would work with at any company, any time".
Let's Work Together!
If you're working at an early stage company in fields like VR / AR, health care technology, AI, work platforms, internet of things software, mobile commerce, blockchain, security, content, wellness, analytics, or human-brain interface, I'd love to hear more about your company.
I also have some availability for advisory / consulting roles for companies that need somebody with executive-level experience successfully scaling startups, helping execute through the challenges that come with growth.